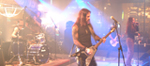 THE BANDS
Garmarna
The Confusions
The $1000 Playboys
Left Hand Solution
my Orchard
Lars Bygdén
The Soft Eyes
Marble
Mine




THE LABEL
Latest News
History
Catalogue
Re-releases
Webshop
MP3shop
Contact

THE PRESSROOM
Pictures
Reviews

CONTACT INFORMATION
---
---
For more Information:
Massproduktion
P.O. Box 377
S - 851 06 SUNDSVALL
SWEDEN

Phone: + 46 - 60 - 12 22 02
Fax: + 46 - 60 - 61 90 31

If you want to visit us - we have moved again. This time to the nice surroundings of beautiful Sidsjön just a few kilometers from central Sundsvall. The visiting address is Paviljongvägen 17, on the second floor at Sidsjö Fastigheter. Please call before visiting since we travel a lot.

Say Hi!
If you can't visit us - pop in on our myspace-page and say hello!
http://www.myspace.com/massproduktion
or like us on facebook:
http://www.facebook.com/Massproduktionon

Keep updated
Subscribe to the Massproduktion newsletter to keep up with the latest news and tour dates for Lars Bygdén, The Confusions, Garmarna and all other things happening at the label (so far only in Swedish). Send us an email ( click below) and you will get it.

Please note - Regarding Demos
During 2011 we have no possibility to work with any more bands that the ones we already have signed. We're a small label, with only one person working part-time - which means we are flooded with work. We prefer to try to do as good job as possible with the bands we already work with than to make promises we can't hold.
So if you are looking for a record deal - it's no use to send your demo to us before spring 2012. But if you want our views and ideas - sure. We will listen to it.

But please don't send MP3's - send URL instead.





Email: info@massproduktion.y.se